Our coach arrived at 07.40am we were greeted by our driver louis over 50 CALPE U3A members and friends boarded the coach in bright sunshine.
We soon reached the AP7 and one hour later we pulled in to "La Safor" for a comfort stop; after 25 mins we set off again; the countryside looked so green as we drove through the "Orchard" of the Valencia region.
Just one hour later we arrived at Sagunto town. our next mode of transport awaited us; it took two tourist trains to convey us to the Iberico-Roman castle. We met our English-speaking guide Ramon; after a short walk up the steep hill we entered the elevated position of the Roman Ruins.
When the invading Romans found out the Iberican name for the town was ARSE they quickly had signs made changing the name to SAGUNTUM!
It was explained to our party that the Vandals, Romans and moors and even Hannibal took a great interest in the commanding high ground.
After an hour we walked down the hill and were delighted to see that refreshments had been laid on for us in the form of tasty pastries and some Moscatel to wash it down with. Much appreciated!
The folk who did not want to visit the Amphitheatre were able to take the tourist train down the hill to the Cafe[PUB]. after an interesting visit to the Roman Theatre we walked in a group to the Jewish quarter and saw the well-kept town houses that housed the small number of Jews that lived and worked in Sagunto.
We then visited the historical museum our guide took us through the various finds from the Roman period including the contents of a typical Roman household, many of the items we use to-day!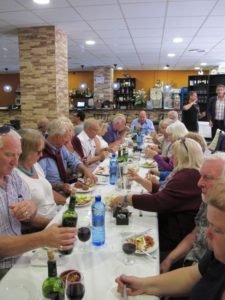 The little tourist train arrived to whisk us off to the restaurant for lunch at" Dancea Moreria".
We partook of a Roman feast with chicken, fish and paella washed down with copious amounts of wine.
The last treat was a small museum under a modern apartment block, it had the original Roman road and the remains of the houses and shops and a GRAN VIA! fantastic!
All too soon we were all counted in by our travel team the contented group settled down for the two-hour return journey. at 19.15 we arrived back safely at the Esmeralda hotel at 19.15hrs.
A big thank you to the Calpe U3A Travel team.
Best wishes Dave