On Friday 11th May a group of 33 (approx) members set off from Calpe at 8.30am to enjoy an interesting visit to Visit to Dominio Espinal vineyard.  Castano is a family owned Bodega which produces some excellent and highly rated wines.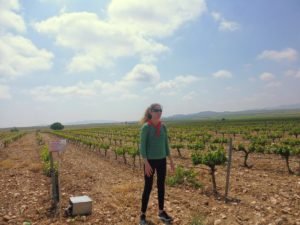 When we arrived at Yecla we were taken to one of their vineyards by Raquel, our experienced and interesting guide.  She explained the growing process and work involved in maintaining the vines.  We were shown around areas which contain different grape varieties.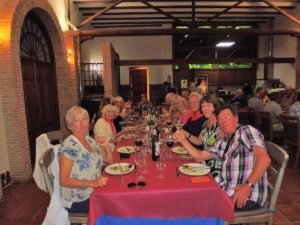 Back to the winery we were taken on a tour of the wine making facilities including the bottling and packing areas as well as the area storing oak barrels of red wine.
Following this exhausting and tempting tour we were treated to a superb lunch including grilled meats cooked in the fireplace in the private dining room.  The food was paired with Familia Castafio wines.  All the wines were delicious and plentiful.
After the meal we had time to purchase wine at a discounted price.  We then headed back to Calpe.
Thanks to Rod Anderton for organising this very successful outing.
by Kerry Edwards