THIS TRIP IS NOW FULL
You are responsible to get on the coach at the times given!
Novelda is a city that is located in the Valencian region in Spain. The city is famous for its grape production.  Also it trades in spices and marble. Manufacturing and processing of marble is the chief industrial activity in the city.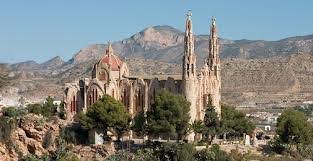 Places of tourist interest in Novelda include the monastery of Santa María Magdalena (dated from the 19th century), which has a church designed by a disciple of Gaudi. The Moorish castle of the Mola, with its unique triangular tower, and the Museum of Modernism. This is a well preserved art nouveau house with original artifacts from the 1920s. The house itself is a work of art.  There are also several natural and salty lakes to visit in the surrounding area.
ITINERARY
Coach from Calpe departing Casa/Repsol at 9.00 am and The Esmeralda Hotel at 9.15 am
Short break on route
Arrive at Novelda approx 10:30am
Visit Modernist House €2 per person to be paid.  Organised visit for 11am
Free time in Novelda.  Note that the Bodega is open for visits at 11am; 12am and 1pm (minimum 4 people)
Return to coach at 16:00.  Drop off at the church
Time to visit the church; castle and restaurant/cafe until 18:00
18:00 – return to Calpe
Arrive Calpe approximately 19:30