Restaurant Puerto Blanco – Calpe
Friday 10th December – 7pm
Puerto Blanco Restaurant have once again provided us with an excellent menu at an exceptional price to celebrate our Christmas Dinner/Dance.  Places are limited so please reserve your place.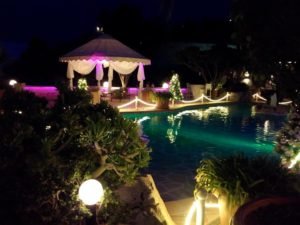 The menu is below and the cost is €36 per person which includes 1/2 bottle of wine.
Music is by Father Marcus who is well known for his Sunday spot on Puregold fm radio as well as our local Chaplain.
Pan y alioli
Bread and alioli
௳
Sashimi de Salmon
Sashimi of salmon
௳
  Martini de foie-gras
Foie-gras Martini
௳
Vegan options:  stuffed pasta, risotto, salad
௳
Sorbete de Maracuya Imperial
Sorbet of Imperial Maracuya
௳
Filete de lubina al vino
Filet of seabass with wine sauce
– o –
Solomillo de ternera lechal con salsa de boletus
Veal sirloin with boletus sauce
-o-
Vegan options:  Stuffed zucchini, vegetable lasaña, mushroom sauté with truffle
௳
Postre Especial de Navidad
Special Christmas dessert
௳
½ botella de vino
½  bottle of wine
email: travel@u3acalpe.org if you would like to attend.